Pina Romolo learned a hard lesson about exporting beyond our borders: Sometimes, customers don't pay for the goods you ship them.
Co-owner of Piccola Cucina, a Canadian company specializing in gourmet Italian baked goods and pantry staples, Romolo experienced firsthand the potential risk when she sent her first shipment of products to an importer in the United States.
Like the majority of Canadian women-owned and -led companies, Piccola Cucina's first foray into exporting was to the U.S. According to research by Export Development Canada (EDC), 72% of women exporters ranked the U.S. as their top market in 2021, while 73% said they're planning to export south of the border. As our largest trading partner, it's a sound strategic market choice because of its close proximity to Canada and no language barriers or significant cultural differences.
But women in trade still face unique challenges, like not getting paid for their goods and services, accessing much-needed financing and knowing where to source information and contacts to help grow their business. 
EDC, in partnership with the Women's Enterprise Organizations of Canada (WEOC), an association that works directly with women entrepreneurs, recently hosted a panel discussion with three women business owners in the food-processing industry to find out about their exporting journey and what tips they would give other female entrepreneurs looking to expand into the U.S. Here's what they had to say: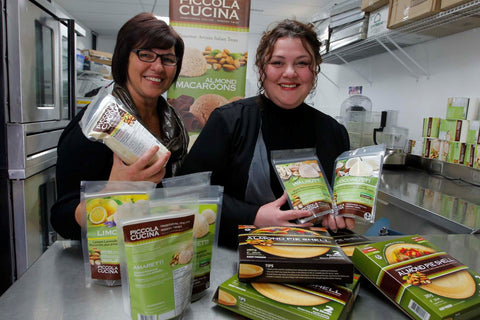 Piccola Cucina
Backstory: Italian for "little kitchen," Piccola Cucina is a multi-generational business dedicated to providing healthy almond-based macaroon cookies, pie crusts and finely milled flour. For more than 10 years, they've specialized in allergy-friendly, gluten-free, dairy-free products, sourced using sustainable practices, including minimizing by-products, zero food waste, recyclable packaging, and conserving water and energy.
Mission: Piccola Cucina strives to consistently provide quality products, while working to educate and influence their customers into making positive changes around ethical ingredient consumption. True to their mission, each product is made with the utmost care and attention to maintain integrity, quality and freshness.
Export journey: When Pina Romolo, company president (above right), sent her first shipment to the U.S. about five years ago, she was grateful she had EDC Credit Insurance. As it turned out, her customer defaulted on payment, but luckily, Romolo had insured her receivables with EDC and was able to mitigate 90% of her losses. "I went in blindly …it didn't go so well," she recalls of the potential loss of thousands of dollars of products. "I'm so thankful I had (credit insurance). I paid a nominal amount to protect my receivables from the risks of non-payment."
Export tip: Take time to plan strategically and leverage market data to determine where your products will have the most success.
"You only have one chance to get it right," says Romolo, who advises entrepreneurs to be strategic and do their homework to determine what resources it's going to take to go into the U.S. She also emphasizes the importance of having "the right people in place to support your growth" and accessing the financing you need to pursue new opportunities.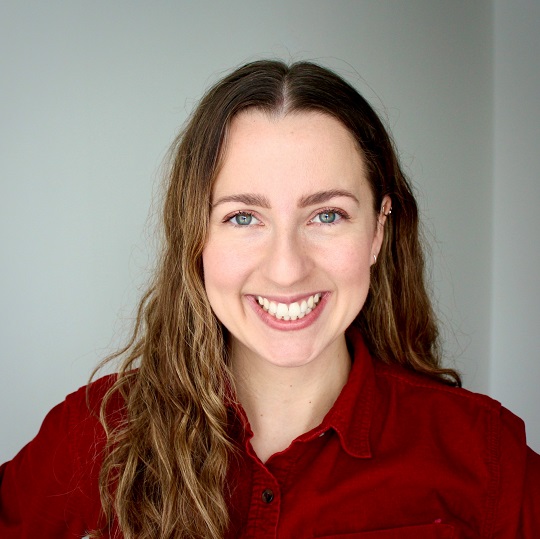 NONA Vegan
Backstory: Kailey Gilchrist is a vegan who loved spending time with her Italian mother in the kitchen. "She loved to nourish people with her delicious food, and I have inherited this passion wholeheartedly." After her mom's death in 2011, Gilchrist found comfort in cooking. "It has this way of bringing back memories of loved ones. Certain flavours, aromas and sensations have the power to send you right back to treasured moments." As a tribute to her mom, Gilchrist started NONA Vegan, a Toronto-based company that produces refrigerated plant-based sauces, in 2013.
The self-proclaimed "Sauce Boss" describes her company as "a kitchen collision between a kooky Italian mama and a modern vegan diet." Her sauces are gluten- and dairy-free and made with fresh cashews and sold at several national retailers, including Sobeys and Whole Foods.
Mission: To provide delicious plant-based foods that bring the comfort and nourishment of an Italian mama's home cooking.
Export journey: NONA Vegan started as a home-based business with one signature sauce. In April, the company will be expanding into the U.S. with five creamy options, including Alfredo, Carbonara and Bolognese. "The market is so ready for plant-based foods," says the bubbly entrepreneur. "It's just exploding."
Export tip: Maximize the opportunities and support programs available to women in business.
"There are a lot of resources … it's a just a matter of tapping into them," says Gilchrist. "Making the right connections are vital, so you're not wasting your time."
To prepare for exporting to the U.S., she completed the Trade Accelerator Program (TAP), a series of comprehensive online workshops offered by EDC and Toronto's World Trade Centre to help small Canadian companies develop their international business strategy. She also took part in a trade mission to Tampa, Fla., to network with other certified diverse LGBTQ+ businesses with Canada's LGBT+ Chamber of Commerce (CGLCC), received funding from CanExport and has worked closely with the Canadian Trade Commissioner Service (TCS) to make connections.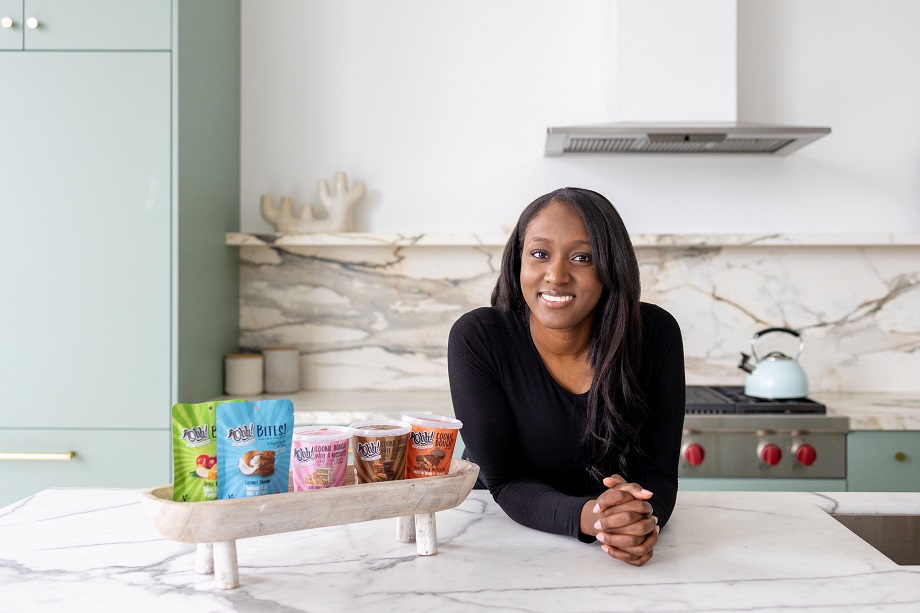 Ohh! Foods Inc.
Backstory: Company CEO, Brittany Charlton, has serious allergies to peanuts and tree nuts. Frustrated by the lack of "allergen-friendly" snacks on store shelves, she started experimenting with recipes for "tasty and safe snacks." Convinced by her mom to start her own healthy snack line, Ohh! Foods was launched in 2018.
Mission: To innovate snacks that are allergen-free, vegan and gluten-free and create a world where inclusive snacking is possible. Ohh!'s decadent collection includes Apple Pie Snacking Bites, Birthday Cake Cookie Dough and Coconut Brownies. They're sold at stores across Canada, including Walmart, Whole Foods and Bed, Bath & Beyond.
Export journey: Recognized this year by Forbes 30 under 30 in the food and drink category, Charlton is getting ready to expand her business into the United States this year with a new distribution partner, Kehe.
Export tip: Build an export plan and make connections to ensure you have the capital, partners and suppliers in place.
Charlton says having connections with people working in your target market can enable you to scale up your business quicker—or slow it down if that makes better sense for your business. Bottom line: Having market insights "can help you make informed decisions," she says.
Learn more here: https://www.edc.ca/en/article/tips-for-women-exporting-to-the-us.html