With a population exceeding 83 million and an economy ranked in the world's Top 20, Turkey is rapidly emerging as a high-growth market. Canada and Turkey have long-standing economic ties, with bilateral trade topping C$3.6 billion in 2019. That same year, our two governments also established a Turkish-Canadian Joint Economic and Trade Committee (JETCO), which aims to increase trade and investment between our countries.
In this post, we'll examine:
Turkey and the pandemic
Like most global economies, many sectors in Turkey have been significantly affected by the pandemic. Services industries such as tourism are among the hardest hit, and industrial production and investment slowed in the first half of 2020. Traditionally, Turkey has been one of the fastest-growing markets in the world and this strong growth is expected to return once the spread of COVID-19 is under control.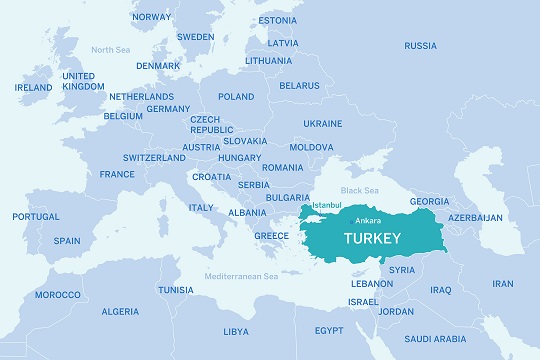 Like most global economies, many sectors in Turkey have been significantly affected by the pandemic. Services industries such as tourism are among the hardest hit, and industrial production and investment slowed in the first half of 2020. Traditionally, Turkey has been one of the fastest-growing markets in the world and this strong growth is expected to return once the spread of COVID-19 is under control.
Forecasted Real GDP Growth
(Annual % Change)
2020
2021*
Turkey
1.2
6.0
European Union
-7.2
4.2
Emerging countries
-2.4
4.2
Source: International Monetary Fund forecast (January 2021).
Current opportunity sectors in Turkey
According to Christopher Wimmer, Canadian consul and senior trade commissioner in Turkey, the country's location is a major strategic asset. "Because Turkey is surrounded by major economies," he observes, "it offers excellent access to a multi-country market of 1.5 billion people worth about US$24 trillion within a four-hour flight radius. As a result, operating in and from Turkey can provide Canadian companies with an abundance of regional opportunities."
Many of these opportunities are in the following sectors:
Construction
This is a key industry and is among the main drivers of public and private investment. Large public projects in the energy, health-care, and transportation sectors continue to be developed. Turkish engineering, procurement and construction companies have also played a major role in international construction for several decades. This presents opportunities for collaboration—not only in the Turkish market, but also globally.
BTY Global in Turkey
Vancouver's BTY Global specializes in project development, consulting and planning. In Turkey, it's involved in projects that range from building hospitals to the construction of the third Bosphorus bridge. "Most infrastructure construction in emerging markets is completed by Turkish contractors," says Tunca Ataoglu, BTY's regional director for Europe, the Middle East and Africa. "They also act as developers, investors, equity shareholders and project managers, so they present a huge opportunity for Canadian companies with the knowledge base for working on such projects."
Automotive
Turkey's automotive industry is supported by vibrant internal demand, as well as the large multinational auto chains that use the country as an export hub due to its location between Europe, Asia and the Middle East. The presence of large automotive factories such as Fiat, Ford, Honda, Hyundai, Mercedes-Benz, Renault and Toyota has led to the development of an important supply industry. Canada's auto parts company, Magna, has a major production facility in Turkey.
Manufacturing
The country's manufacturing industries are diverse and growing. Ranging from textiles and agri-food to machinery and iron and steel production, the sector presents many opportunities in advanced manufacturing, innovative production technologies and raw materials supply.
Energy
Over the past decade, the deregulation and privatization of the energy sector, coupled with an improved legal framework and increasing domestic demand, have made Turkey an important destination for conventional and renewable energy investments. International suppliers in these sectors may find rich opportunities in the country. The recent natural gas discoveries in the Black Sea may also present various opportunities for Canadian companies in the near-term as Turkey aims to start production in 2023.
Energy diversity
"Turkey is focused on increasing energy diversity and reducing its dependence on imports," says Mike Ward, the executive director of the Canada Turkey Business Council. "Siemens, for example, has overseen the construction of a 1,000-megawatt power plant and wind turbine operation, which is designed to increase wind-energy production by 17%."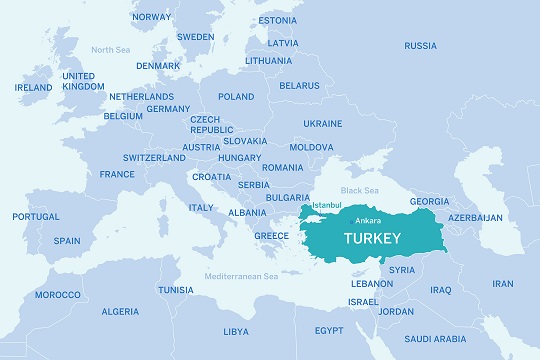 Future opportunity sectors in Turkey
Among the opportunities for Canadian companies in the coming years:
Renewable energy
In just over a decade, Turkey has tripled its installed renewable capacity and invested nearly $40 billion in renewable energy projects. Investments are expected to continue as Turkey expands its renewable energy capacity from 42 gigawatts (GW) to 63 GW by 2024.
Cleantech and waste management
Turkey's rapid industrialization and growing population have increased demand for environmental public services such as solid waste and sewage management, and water and wastewater treatment. The development of more efficient, lower-cost technologies means that cleantech and waste-management projects will be a high priority for years to come.
Stantec in Turkey
Stantec is an Edmonton-based engineering and project management firm with a global footprint. The company has been operating in Turkey since 1999. "Our core business in Turkey is in water, energy and environmental projects," says Murat Sarioglu, managing director for Stantec Turkey. "We provide consulting services to the large investment banks, but we also work with select clients in local markets such as municipalities, water utilities and ministries. In addition, we use our Turkish operations to access other locations that are logistically well-connected to Turkey. These include North Africa, the Caucasus, Central Asia and the Balkans."
Information and communications technologies (ICT)
This is one of the fastest-growing sectors in Turkey and is expected to diversify into areas such as artificial intelligence. Companies will also find new opportunities as demand from the three telecom operators grows, as well expanding needs for high-tech machinery and other ICT goods and services as the transformation of the manufacturing sector progresses.
Risks and challenges for Canadian businesses in Turkey
Turkey is ranked 33 out of 190 countries (Canada is ranked 23) in the World Bank's Ease of Doing Business 2020 report. Bureaucratic and regulatory barriers have been reduced, but room for improvement remains. For example:
Sudden and frequent changes to legislation and regulations can pose risks for Canadian companies.
English speaking is limited in municipalities, public administration and small- and medium-sized enterprises (SMEs). Consequently, the language barrier can sometimes prevent international companies from doing business in Turkey.
If not adequately planned for, currency volatility may pose a risk. The Turkish lira has been on a wild and volatile ride for the past several years. Since the end of 2017, the lira has lost 46% of its value against the U.S. dollar—typically losing ground when interest rates are set too low and recovering as interest rates rise.
Working with a Turkish partner can help you deal with several of these hazards, as well as bring other advantages, including:
You can mitigate the problem of legislative and bureaucratic obstacles by partnering with a Turkish company. This also eliminates the language barrier.
If you want to bid on government tenders, you must either open a local office or partner with a Turkish firm. Partnering is usually preferable.
Turkey's economy is dynamic, so it's vital to be in constant touch with the market to take advantage of opportunities. But frequent trips to Turkey are challenging because of the expense and restrictions imposed by the COVID-19 pandemic. Having a local partner can resolve this problem by keeping you up-to-date with the local situation.
Partners bring their own networks and connections, which are crucial for the sales process. They're also familiar with local sectoral challenges and how to overcome them.
Turkish companies are often interested in partnerships and sharing knowledge rather than purely commercial transactions. This can lead to a beneficial long-term relationship between businesses.
For more information: