By Mario Toneguzzi
Flexible work and coworking spaces have become an increasingly popular trend in today's world, with accelerated growth expected due to the COVID-19 pandemic.
And companies that have unique and innovative workspaces are taking advantage of that scenario.
"We're definitely in growth mode and actively looking at locations in other shopping malls to extend our network of flexible workspace," said Graham Wong, Founder/CEO of LAUFT.
"For individuals and organizations with the freedom to work remote, we provide the tools and services for them to do their best work in the most convenient, consistent, and professional way possible. We locate LAUFT wherever people need to work so our global vision has us setting up in shopping malls, store-in-store (ex. coffee shops, bookstores, etc.), hotels, conference centres, hospitals (when safe), and locations that allow people to work closer to where life happens.
"Pre and Post COVID the demand has been increasing rapidly as remote work has become the norm for many companies. We're excited to roll out to serve and support remote work everywhere."
LAUFT opened December 2018 in Upper Canada Mall in Newmarket. Other current GTA locations include: Barrie (Georgian Mall), Vaughan (Vaughan Mills), Toronto (Metro Centre), and Burlington (Burlington Centre). There are also locations in Ottawa and Kingston.
The expansion plan includes more locations in Toronto (401/Dufferin + Yonde/Wellesley), Mississauga, Oakville, Oshawa, Scarborough, and other locations around the GTA.
Wong said the platform is mobile and technology driven. People can rent a desk, an office, a meeting room or even a boardroom by the hour.
"It's very much like Uber. You open the app, you find the closest LAUFT and you can book. You don't have to call ahead, you don't have to have a membership or contract," said Wong, adding that coworking in general in places like Regus, We Work, and Staples is still a very traditional office model for companies.
"We want to solidify the GTA model and then build out across Canada and into the U.S. It's a global vision to really have LAUFT on almost every street corner so that if you need to work you open that app and find the closest one, you get to work.
"We've created the utilitarian aspect of flexible work, put it into a convenient package, a network of touchpoints and we've made it totally customizable so that you book by the hour, the day, the week and it's up to you.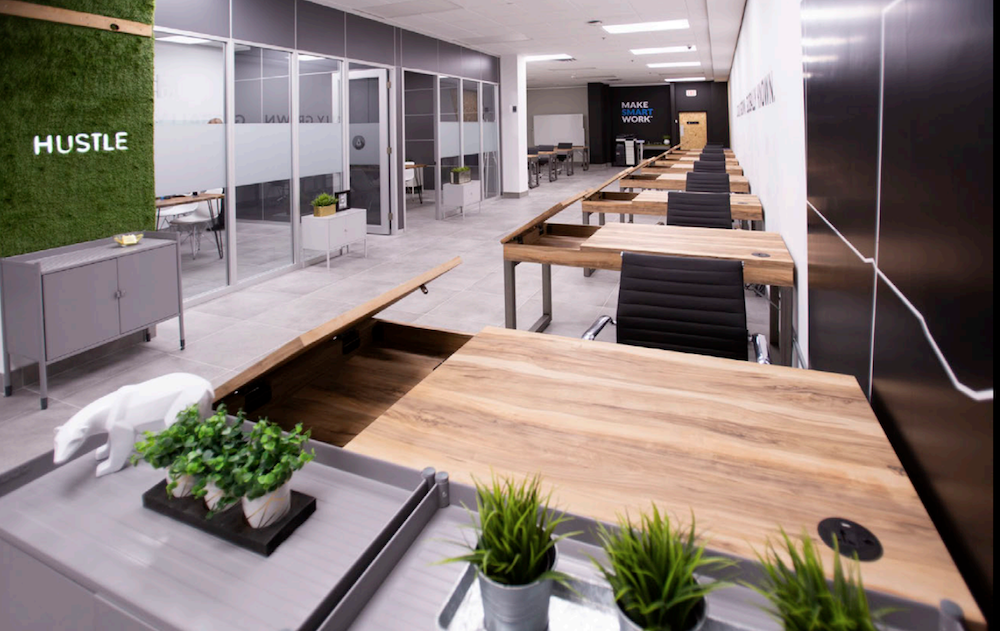 "We're aggressively looking at shopping malls. We're looking across the board to really build up the model in southern Ontario right now. Once we've proved that model we also are going to be locating LAUFTs in airports, hotels, conference centres and hospitals when they are able to. We'll roll this out across the country, into the U.S. and eventually go global. We want to take flexible work and put it on every corner. That's our goal."
Robert Martellacci, Founder & CEO of MindShare Workspace Inc., Canada's first mall located coworking innovation space in Erin Mills Town Centre in Mississauga, said the concept is for shared office space for small businesses and startups.
"We are looking to expand our format into other suburban area malls," he said.
"I had this vision four years ago when we started evolving the concept and that was kind of ahead of my time but now all of a sudden now the expansion opportunities, in combination with COVID and store spaces opening up, it's a great opportunity to expand."
The Erin Mills Town Centre space is about 4,000 square feet, a former Urban Planet store. There are nine offices, dedicated desks, and drop in space. It accommodates 40 to 50 businesses.
"I want to make it really super simple and easy to access our space," said Martellacci. "People really value the amenities of the mall. The food court. The free parking. We're solving the problem for the malls. I see a shift happening to more services in the future with the recent closures. It presents opportunities.
"We're looking at other locations. We're definitely looking at U.S. expansion and we're looking at expansion into other suburban malls that are a key region like the GTA. We're interested in Calgary. We're looking at major metropolitan areas in suburban regions because people are re-evaluating priorities in life. People are looking to stay closer to home. People are starting their own businesses because of COVID. Growth is definitely on the horizon."
"We're in discussions with Milton. The Town of Milton is the fastest growing town in Canada and over 3,000 people travel downtown daily on the GO. That's likely going to be our next location. There's no coworking space there and there's a mall that's being renovated."
A mall conglomerate in Upper State New York to Boston with 16 locations has also expressed interest in the concept.